Before every contract for the removal of asbestos is started, a thorough investigation is undertaken of the site and a formal 'Method Statement' is produced. The Method Statement describes to both the client and D.S.M. Consultants the methodology of the removal process to include the areas as described throughout this page.
The first section of the Method Statement describes the scope of works and defines dates and times, access to the site (keyholders etc), the specific part of the site being worked upon through to the method of disposal for the materials removed and then any testing/air monitoring and returning of keys etc to the site owners or their agents.
The next section of the document contains the risk assessment which defines the person or persons responsible for various aspects of the work such as site contacts, local HSE contact, First Aider, Site Inspectors etc. This is so that whatever risks are undertaken everyone knows who the contact person is. There are then descriptions of known risks and solutions to those risks.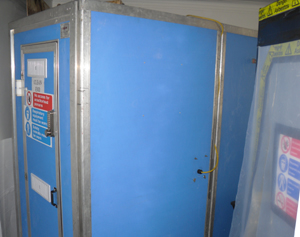 There may also be other supporting documents provided dependant upon the specific contract being undertaken such as COSHH data sheets.
There is a defined drawing of the chain of command for those responsible for the site and operation. After which the following 4 sections describe in detail:
How access will be gained to the site.
The procedures that will be undertaken before removal.
The procedures that will be followed during the asbestos removal.
The procedure after the asbestos removal.
The subsequent sections define personal decontamination procedures when working with asbestos and the regulations relevant to those procedures. The disposal of the waste asbestos, protective clothing, respiratory and other equipment, air monitoring and emergency procedures. Finally there is a form that enables any alterations to the plan to be recorded in the event that these occur.
There is a section where there is a site diagram graphically showing the area where the work is to be undertaken which includes locations for decontamination units, airlocks and negative pressure units.
Below are a few more photographs of enclosures before and after the removal of asbestos.