The Complete Asbestos Management System (ACAMS) has been designed and developed over many years to provide an easy to use but highly efficient method of managing asbestos in buildings.
The system records all the details of an Asbestos survey. These can be imported directly from management data produced with the Asbestos Property Survey System, or entered manually using data provided from a third party survey.
The ACAMS system provides automatic reminders of scheduled inspections before they are due.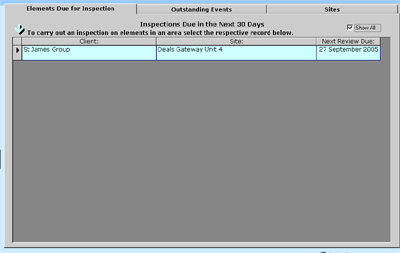 Displays all site details Buildings, Floors, Areas & Samples.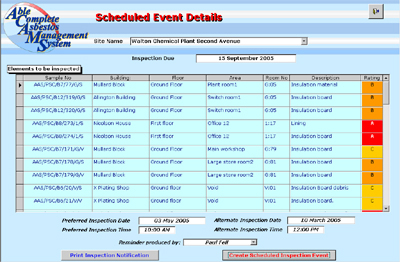 An event history for each site is recorded for easy reference.

The ACAMS system is structured around events related to the site, which include Management Schedules, Permits to Work, Incident Reports & Inspection Requests.

If elements are removed from the site or are no longer relevant to the survey, they can be removed for the register either by single samples, or a whole Area, Floor, Building or Site.
If you are a managing agent with multiple sites there is also the facility to monitor and update site management rates and produce site management proposals for your clients.
To get a copy of the Installation CD for yourself please use our enquiry form and specify that you require a database CD.